Commercial risks
Nobia's commercial risks can be divided into strategic, business development-related, operating, sustainability-related as well as political and legal risks. Here you can read about how Nobia manages these risks.
Strategic risks
Corporate-governance and policy risks are managed by Nobia continuously developing its internal control. The internal dissemination of appropriate information is ensured through the company's management systems and processes.
Business-development risks
Risks associated with business development, such as acquisitions and major structural changes, are managed by the Group's M&A department and central programme office and by specific project groups organised for the various projects. Continuous follow-ups are carried out compared with plans and expected outcomes. More long-term risks are initially addressed by the Board in its Group strategy planning.
Operating risks
Market and competition
Nobia operates in markets exposed to competition and mature markets. The company's cyclical nature does not deviate from that of other companies in the industry. Nobia has a structured and proactive method for following demand fluctuations. Robust measures and cost-saving programmes for adjusting capacity have proven that Nobia can adjust its cost level when demand for the Group's products declines.
Customers
Sales through own and franchise stores is a deliberate strategy to achieve greater influence over the kitchen offering to end customers. Own stores allow the concepts to be profiled with higher added value. A risk is that retailers are unable to fulfil their commitments under established contracts, which may have a negative effect on sales.
Sales to project customers are conducted directly with regional and local construction companies via a specialized sales organization or directly through the store network. Concentrating on these large separate customers entails an elevated risk of losing sales if a large customer is lost as well as increased credit risk.
Supply chain
Nobia's cost structure comprises about 60 per cent variable costs (raw materials, components, accessories), about 30 per cent semi-variable costs (personnel costs, marketing and maintenance) and about 10 per cent fixed costs (rents, depreciation, insurance). The division of costs is relatively equal between the primary markets, except that the UK has a slightly higher percentage of fixed costs due to their extensive store networks.
Nobia's proprietary production mainly comprises the production and installation of cabinets and doors, together with purchased components.
Of Nobia's purchased materials and components some 20 per cent pertain to raw materials such as chipboard, about 55 per cent to components such as handles, worktops and hinges, and about 25 per cent to goods for resale such as appliances. The underlying raw materials that the Group is primarily exposed to are wood, steel, aluminium and plastics. Nobia's sourcing organisation works closely with its suppliers to ensure efficient flows of materials.
Property risks for example in the event of a fire at manufacturing units, are minimised by Nobia conducting annual technical risk inspections jointly with the Group's insurers and the risk consulting firm AON. Preventive measures are continuously implemented to reduce the risk of disruptions in the operations.
Strategy and restructuring
Nobia's ability to increase profitability and returns for shareholders is heavily dependent on the Group's success in developing innovative products, maintaining cost-efficient manufacturing and capitalizing on synergies. Managing restructuring measures is a key factor in maintaining and enhancing Nobia's competitiveness.
Human capital risks
Nobia endeavours to be an attractive employer, which is a key success factor. To ensure availability of and skills development for motivated employees, manager sourcing and managerial development is administered by a central unit at Nobia.
Sustainability-related risks
Nobia's products are encompassed by international and local regulations regarding environmental impact and other effects arising in the production and transportation of kitchens, for example, the release of exhaust fumes and emissions, noise, waste and safety. Nobia works continuously with its operations to adjust to the necessary expectations and requirements.
Political and legal risks
Changes in local tax legislation may affect demand for the company's products. Subsidies for new builds and/or refurbishment or changes to the taxation of residential properties may influence demand. Tax deductions on labour for home renovations, for example, have had an effect on demand in several Nordic countries.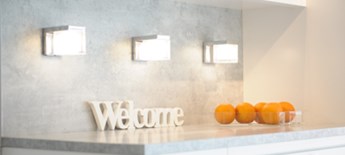 Related information
Find out more about our business concept and vision, strategy, and our sustainability work.