Financial risks
Nobia's financial risks are attributable to currencies, interest rates, liquidity, borrowing and credit granting as well as financial instrument and pensions. All of these risks are managed in accordance with the finance policy.
Currency exposure
Nobia is affected by translation differences when the Group's sales and operating profit are translated to SEK, but the most important currency effect derives from transaction flows, when purchasing or production is done in one currency and sales in another currency.
Generally:
Nobia benefits from a weak EUR and a weak DKK.
Nobia benefits from a strong GBP and a strong NOK.
The Group uses currency derivatives to hedge a portion of the currency exposure that arises. Currency hedging means that the impact of currency movements occurring today will be delayed to some extent.
Sensitivity analysis
Transaction effects on the Nobia's operating profit from changes in the company's most important currency pairs are shown in the table below. Transaction effects on operating profit are excluding hedges. The figures show the effect on 31 December 2017.
| Currency pair | Change | Effect on operating profit |
| --- | --- | --- |
| EUR/GBP | +/-5% | +/- 42 SEK m |
| EUR/SEK | +/-5% | +/- 23 SEK m |
| NOK/DKK | +/-5% | +/- 21 SEK m |
| NOK/SEK | +/-5% | +/- 16 SEK m |
Changes in value in balance sheet
In addition to the financial risks that are regulated in the finance policy adopted by the Board, there is also a risk for changes in value in the balance sheet. A structured work model is applied to testing the value of assets and liability items in the balance sheet.
For more information about Financial risks, please see note 2 and pages 67-69 in the 2017 Annual Report.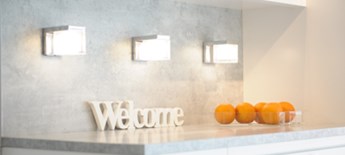 Related information
Find out more about our business concept and vision, strategy, and our sustainability work.