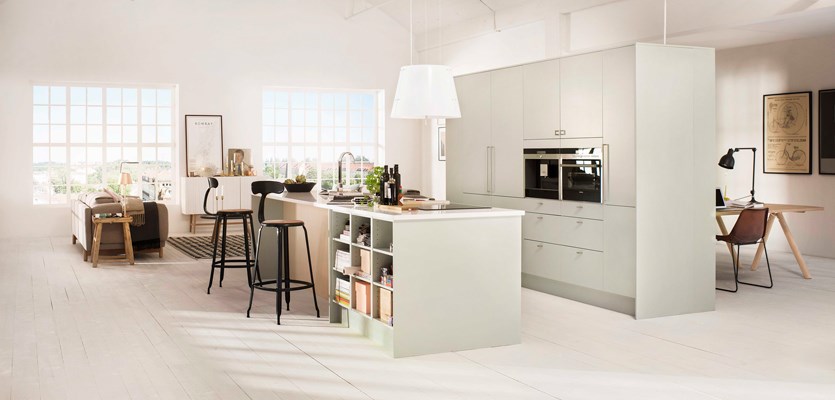 Product sustainability
Sustainability is a focus area for Nobia's product development. This means that the issue of sustainability is important both in our innovation processes and in our product development.
We offer Nordic Eco-labelled products and products that meet eco­building standards such as BREEAM and Nordic Eco-labelled single­family houses, apartment blocks and preschool buildings. We are seeing tremendous – and increasing – market interest in sustainability certification and product labelling. In Sweden and Norway, 45 per cent of sales came from Nordic Swan eco-labelled products in 2018. As a response to market demand, we will additionally introduce Nordic Swan eco-labelled laminated worktops into the Nordic market during 2019.
Nobia's products should be safe to use throughout their entire useful life. Ergonomics are taken into consideration in all our product development, and relevant tests are carried out both in­house and by accredited testing institutions in line with EU standards before a new product enters the production phase.
In 2017, we initiated a partnership among the functions for product development, sourcing and sustainability for the purpose of developing and implementing a sustainability scorecard for our new products. The scorecard makes it possible to evaluate products based on several different criteria as regards materials, design, supplier and function. Every area is graded separately using a points system; all together, they provide a total assessment of the product's sustainability performance. Development of the scorecard is completed, and everyone concerned has been trained in using the tool. The implementation phase will continue in 2019.
Consumers are increasingly aware of their impact on the planet and expect companies to take responsibility throughout the value chain. We want our customers to feel proud not only of our products' design, function, and quality, but also of how it impacts people and the environment.

Amanda Jackson, Head of Group Sustainability