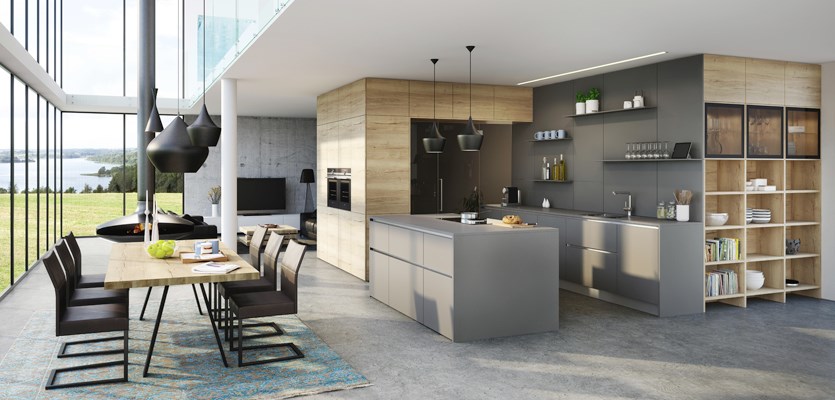 Business concept and vision
We are focused on kitchens and our customers know us under local brands such as Magnet, HTH, Marbodal, Sigdal, Petra, ewe and unoform. Through our specialization and size, we benefit from shared expertise and economies of scale. We develop functional and stylish kitchen solutions based on a solid understanding of both modern consumers and kitchens. In this way, we take the leadership of the European kitchen industry.
Business concept
Nobia offers consumers and corporate customers attractive kitchen solutions under strong, local brands. We generate value for customers by offering high-quality function and design in both kitchen solutions and individual kitchen products, and through related services such as consulting, customized design, delivery and installation. Behind the scenes, there are efficient processes that capitalise on economies of scale.
Vision
"Inspiring kitchens made easy" is our vision. We will be the leading and most successful kitchen specialist, which inspire people to realise their kitchen dreams. The customer experience is at the centre with us. We help the customers all the way until they have a functional and good-looking kitchen that they enjoy. With solid know-how, consumer insights and technical tools, we provide innovative kitchen solutions and a smooth and enjoyable purchase process.
Focus on kitchens
Ever since the company was founded, Nobia has focused on kitchens. This focus makes it possible to leverage joint know-how throughout the entire value chain – across national boundaries and brands. As a dedicated kitchen specialist, Nobia is taking the lead in the kitchen industry both in terms of developing new products and services, and in terms of its ambition to contribute to the industry consolidation.
Vision
Inspiring kitchens made easy is our vision.