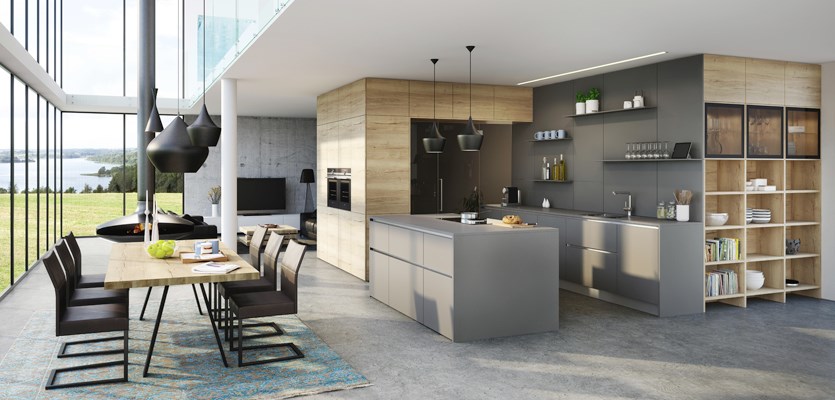 Business concept and vision
Nobia is a European kitchen Group. Our customers recognise us under the kitchen brands of Magnet, HTH, Marbodal, Sigdal, Petra, ewe and uno form among others, all of which are known for their excellent design, functionality and service. Thanks to our specialisation and size, we are able to take advantage of shared skills and lead development in our industry. We are the leading kitchen specialist.
Business concept
Our business concept is to offer consumers and companies attractive kitchens under our own strong brands and private labels. Sales take place through our own stores, franchise stores or retailers, which include kitchen specialists, furniture stores, DIY stores and builders' merchants. We deliver both complete kitchen solutions and stand-alone kitchen products, as well as such services as advice, customised design and installation. Behind the scenes, we have efficient proesses that capitalise on economies of scale.
Vision
Our visions is "Inspiring kitchens made easy." This means that we make it easy for our customers to have an inspiring kitchen in their home. We nurture kitchen dreams and put the customer experience at the forefront. We endeavour to make the purchasing process as simple as possible. With our sound know-how and long experience, we create and realise fantastic kitchen solutions together with our customers. We provide support in the entire process, from inspiration and concept to a finished, functional and attractive kitchen.
Focus on kitchens
Since the company's founding in 1996, Nobia has focused on kitchens. We have expanded based on our own strengths and through acquisitions, but always by focusing on kitchens. This specialisation makes it possible to leverage joint know-how throughout the entire value chain – across national boundaries and brands. As a dedicated kitchen Group, we are taking the lead in our industry both in terms of developing the range and purchasing experience and through our ambition to participate in the industry's consolidation.
Vision
Inspiring kitchens made easy is our vision.