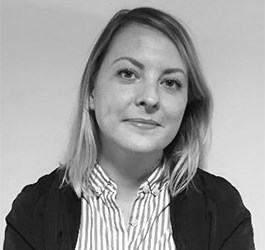 Hanna Petersson, Product Development
Hanna joined Nobia in 2015 and enjoys working in the international environment as it helps to broaden her own thinking.
Please describe your role within Nobia.
In my role as a concept developer, I develop kitchen concepts that follow the trends we see in design as well as consumer behaviour. In my role, it's important to work across all categories and see the whole, instead of one specific product category.
What made you decide to join Nobia?
The company is in an industry that I have great personal interest in, as kitchen is part of interior design. Since my previous job was within design and innovation, I felt that I could apply my knowledge even in the role at Nobia. Of course, I was also attracted by the strong and international brand portfolio.
Please describe your career path within Nobia.
I joined Nobia at the end of 2015 as a concept developer. The role was new to Nobia at that time, which gave me the opportunity to form my role description. During the time I've been at Nobia, my role has evolved all the time. This means that I've got a more structured work process where we work with important milestones. I understand how my role contributes to Nobia's overall goals, which helps me to be more proactive in my job.
What kinds of skills or experience are valuable to have in your role?
You need to have an interest in design and consumer behaviour. Further, it is important to have the ability to think analytically and strategically in order to translate the trends you look for in kitchen concepts. Another important quality is flexibility, as we never know at the beginning of a process how the end product will look. One must be open to trying different ways to find the ultimate kitchen concept.
What do you enjoy most about the work you do?
I really like that one day can look completely different from another. One day I am at a kitchen fair in Cologne, the other day I am in the office having a workshop on future kitchen concepts and the third day I am in Småland visiting a supplier.
How would you describe the company culture in a few words?
We have an international culture that helps you broaden your thinking and your own context. It is also an open culture, where everyone is welcome. I would say that it is an ambitious culture, with many talented experts in their area.
Facts about Hanna
Name: Hanna Petersson
Job title: Concept Developer
Based in: Stockholm, Sweden
Educational background: Master, Business and Management - Strategic Marketing
I understand how my role contributes to Nobia's overall goals, which helps me to be more proactive in my job.
Hanna Petersson, Product Development