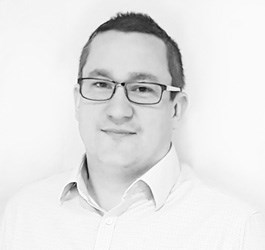 Mick Jones, Manufacturing
Mick joined Nobia in 2000, and he thinks that the best part of his work are the constant challenges.
Please descrive your role within Nobia.
I am responsible for supporting the UK Supply chain through co-ordination of activities and projects across all UK Manufacturing sites.
What made you decide to join Nobia?
Originally it was more necessity than any aspiration, when the company I had been working for started releasing staff as they moved production from the UK to lower cost countries. As a result I made enquiries to work for Magnet in the UK, and was lucky that there were temporary positions available.
Please describe your career path within Nobia.
I started at the Magnet site in Darlington in December 2000, working in the factory floor on one of the cabinet production lines; from here I was then recruited to assist with the integration of the new MRP system (IFS in 2002) with the production teams.
After this I was moved into a more supportive role assisting with the maintenance of the BOMs (Bill Of Material) process routes etc. and developing some early KPI's that would utilise the information that the MRP system was now providing.
I was later part of the core team set up to help implement lean manufacturing principles at the Darlington site before becoming the Planning Manager for Darlington manufacturing in 2009 and then in 2013 I became the UK Production Support Manager, moving my role away from being purely focused on Darlington, and instead responsible for coordinating project activity across all of the UK production sites.
Most recently I have become the UK Technical Development Manager (UK Supply chain) working across the UK production sites and working with the product development team to co-ordinate the production activities associated within the Go to Market process to ensure successful implementation of all new manufactured products introduced in the UK.
What kinds of skills or experience are valuable to have in your role?
Obviously, above anything you need to be able to organise not only your own time, but help to coordinate others across different departments and potentially different countries, and I have found different tools that can be valuable to hold these cross departmental teams together.
One of the most effective tools that I utilise is a timing plan, it's something that is not utilised enough I feel, but to me it is essential to keep control over the process of managing any activity that involves reliance on multiple departments, not just for major projects.
I think one of the most valuable lessons I have learnt is to do more listening than talking. It is absolutely true when you deal with other departments where you need to persuade them to work with you, to gain the trust and agreement of others you have to listen to all their concerns and understand their point of view, and often as a result this can highlight things you had not thought of previously.
What do you enjoy most about the work you do?
I would have to say the constant challenges, there is an accepted environment of change in the UK, so we are always looking at how we do things, and challenging the paradigms to find better and more efficient ways of working.
How would you describe the business culture in a few words?
I think the best way to describe the culture is one of change and evolution, so much has changed in the last 5 years both within manufacturing to continually improve the efficiencies of the sites year on year, but also with product specifications, seeing more standardisation of specifications across brands and sites.
What types of future challenges and opportunities do you foresee in your areas?
I think the main challenges in the coming years will be to realise the potential for frontal manufacture in the UK, it's not something that I feel has been pushed to date, with the UK historically looking to buy in rather than explore manufacturing options, however I think this has a huge potential to generate positive financial benefits for Nobia if we get it right.
Beyond the potential for frontals, I see standardisation of the K20 platform as a major challenge, particularly across the different business units in Nobia, I think in the past the key has been to standardise frontal and end panel sizes, but I feel we need to look more at the technical detail in the cabinet, this will ultimately enable sites across Nobia to provide capacity support to any other group member at short notice, improving site utilisation and reducing unnecessary production costs.
Facts about Mick
Name: Mick Jones
Job title: UK Production Support Manager
Based in: Darlington, UK
Interests: Football, computers, films
I think the best way to describe the culture is one of change and evolution.
Mick Jones, Manufacturing