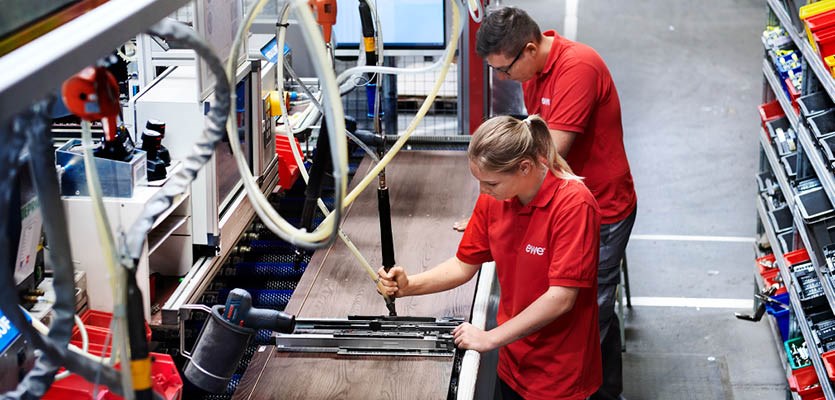 Employee well-being
Through our employees, we make a difference. Employees with high job satisfaction, who display commitment and all work towards the same goals and vision, are crucial for our success. By building a culture of inclusion, integrity and safety, we are creating a work environment in which both our employees and our operations can develop.
Nobia has employees in Austria, Denmark, Finland, Netherlands, Norway, Sweden and UK. Of the group's approximately 6,000 employees, 50 per cent in Administration and Sales and 50 per cent in Production and Logistics. Nobia has mainly established staff.
Safe and secure work environment
Employee safety is our top priority, and Nobia has a vision of zero accidents in the workplace and no work-related injuries. Preventive measures are taken to minimise the risk of accidents, injuries and sickness absence. Furthermore, 7 of our 14 plants have OHSAS 18001-certified management systems for work environments. OSHA 18001 is an internationally acknowledged standard for detecting and preventing risks, and improving the work environment in other ways. In 2019, Nobia region UK received the prestigious Sword of Honour award. The award demonstrates excellence in the management of health and safety risks at work, from the shop-floor to the boardroom.
Commitment and development
Leadership is an important cornerstone in our business strategy; its purpose is to lead our operations and to motivate and involve all employees to work towards shared visions and goals that are set high. In many cases, employee commitment is a reflection of involved and competent managers, and we see a clear link between them in our employee survey. To provide all the managers in our organisation the opportunity to develop and strengthen their leadership, we conduct the Excellent Leadership programme in which managers are given the methods and tools to use in their daily management work.
Code of conduct
The employees are expected to maintain a high ethical standard and to follow the principles laid down in the company's Code of Conduct in their work. Nobia values a healthy balance between work and leisure and encourages its employees to achieve such a balance. Nobia respects the individual, strives for diversity and equal treatment, and aims to increase the proportion of women in executive positions.
6109
employees in Nobia
Read more about
Employees by gender, 2019
Employees by function, 2019
Administration and sales
Production and logistics