Our focus
Understanding the expectations of key stakeholders is crucial for being able to meet current and future customer needs. Based on stakeholder dialogue, impact analysis, and internal workshops, focal areas are set and priorities for our sustainability work going forward.
Our focus areas are:
Product sustainability: Developing kitchen products for current and future needs
Sustainable choice of materials: Materials from sources with a limited impact on people and the environment.
Reduced climate impact and economising resources: Resource- and energy efficient solutions
Responsible sourcing: Selection, monitoring and auditing of suppliers with focus on the respect for human rights, the environment and business ethics.
Secure work environment: Safe workplaces promoting respect for human rights, the individual and diversity.
Business ethics and transparency: Working methods and conduct to ensure compliance with the law, promote transparency and maintain good business ethics in the value chain.
Nobia's principal stakeholders are our employees, consumers, business customers, shareholders, franchisees, retailers and suppliers. Other stakeholders that we affect or are affected by in various ways include potential employees, authorities, the media and the local communities where we operate.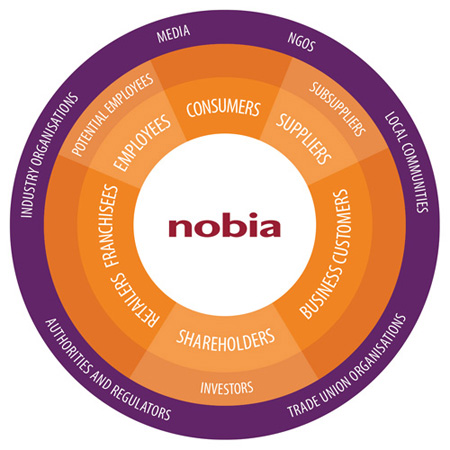 Stakeholders
Our stakeholders' views are the basis for our development work. We use the stakeholder dialogue to identify Nobia's key sustainability issues.

Amanda Jackson, Head of Group Sustainability