Stakeholder dialogue
Nobia's principal stakeholders are our employees, consumers, business customers, shareholders, franchisees, retailers and suppliers. Other stakeholders that we affect or are affected by in various ways include potential employees, authorities, the media and the local communities where we operate.
Communication with the company's stakeholders is part of our sustainability work. We have a regular dialogue on sustainability-related issues with our stakeholders in various forums. In 2015 and 2016 we also conducted individual interviews with trade union representatives and a selection of large customers and shareholders, suppliers and relevant interest groups. All of Nobia's employees have had the opportunity to comment on the sustainability aspects that they consider essential in surveys on the group's intranet.
Examples of areas that stakeholders consider important:
A safe and secure working environment
Business ethics and anti-corruption
Human rights and the environment in the supply chain
Safe and environmentally friendly products
Efficient resource usage and identifying environmental improvements
Reducing climate impact by cutting carbon dioxide emissions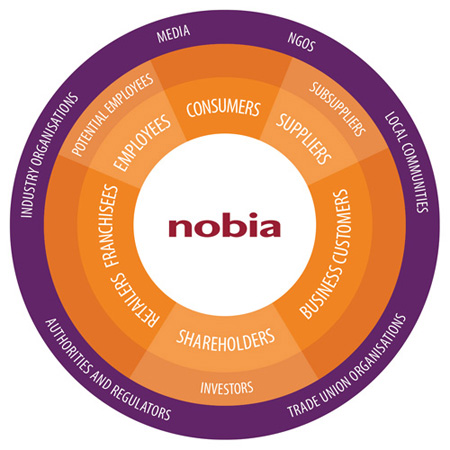 Stakeholders
Our stakeholders' views are the basis for our development work. We use the stakeholder dialogue to identify Nobia's key sustainability issues.

Amanda Jackson, Head of Group Sustainability