Value chain
Nobia's business covers everything from product development and production to sales to the end-customer.
Our commitment to a sustainable development is both long-term and business-oriented and comprises all operations in our value chain. Our main impact on people and the environment relates to how the products we sell are manufactured, and how they enable a more sustainable living.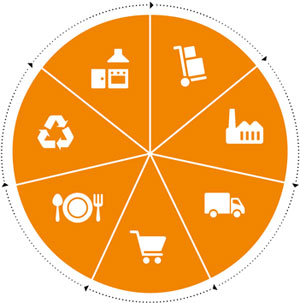 | | | | | | |
| --- | --- | --- | --- | --- | --- |
| | Environment | | Social | | Economy |
Product development
We wish to contribute to a more sustainable development by helping our customers lead more sustainable lives in the kitchen. Sustainability is thus a key focus within innovation and product development.

Purchasing
Our suppliers operate on different markets and can impact both people and the environment where they operate. We assess and monitor our suppliers on social, environmental and ethical issues. Wood is the main component in our products. Our suppliers of wood are mainly in Europe and all must comply with our policies on sustainable forestry.

Manufacturing
We have 13 production facilities in six European countries. In our manufacturing we follow a Lean-based process which includes, among other things, a systematic work on health, safety and environmental issues to prevent work related accidents, reduce energy consumptions, material use and reduce emissions and waste. We also work actively to create a culture where our vision of zero work related accidents can be realised.

Transport
Effective distribution in the product flow from supplier to customer is important to minimise the environmental impact from transportation. Studies and analysis of distribution are carried out in close collaboration with carriers and with help from external experts to optimise and find new solutions.

Sales
We have extensive experience of designing kitchens and helping our customers on the journey from inspiration to installation with the aim of ensuring a safe and sustainable kitchen solution for current and future customer needs.

Use
Our kitchen solutions can enable our customers to live more sustainable lives in the kitchen. To safeguard that our products are safe to use and for the environment we carryout tests, both internally and by external experts. We have Eco-labelled products in our assortment. Eco-labelled products have been assessed based on how they impact the environment from source to end of life.
Waste and recycling
We strive to minimise all waste from our manufacturing. At the same time, we endeavour to help our customers to reduce their environmental impact by assuring smart solutions for food storage and recycling.