Business overview
Nobia is one of the largest kitchen companies in Europe. We conduct both manufacturing and sales in seven countries: the UK, Denmark, Sweden, Norway, Finland, Austria and the Netherlands. We are organised into three regions: the Nordic region, the UK and Central Europe. The former two are the dominant regions.
In the Nordics, Nobia has several kitchen brands and our products are produced and sold to both consumers and professional customers. In the UK, Nobia is present with the operations Magnet, Gower, Rixonway Kitchens, Commodore Kitchens and CIE. In Central Europe, Nobia manufactures kitchens with the brands ewe, FM and Intuo in Austria, and Bribus in the Netherlands.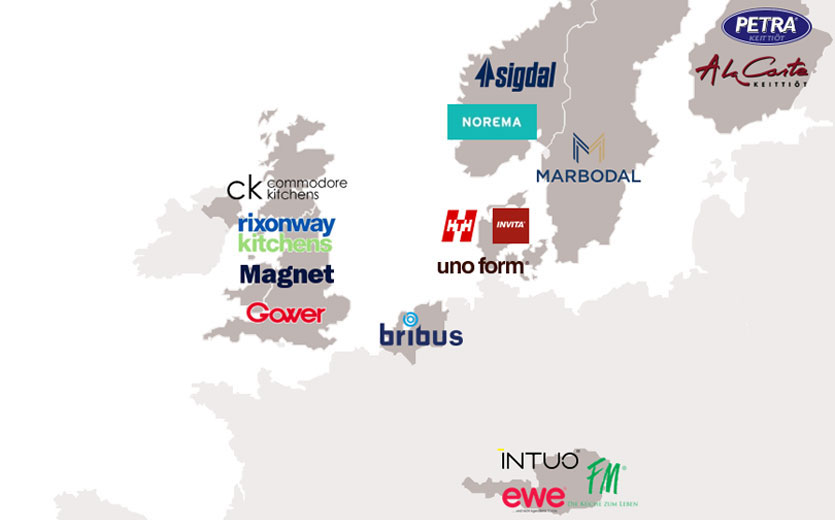 Nordic region
In the Nordic region, we sell kitchens to consumers and professional customers under eight brands, some of which can be found in several markets.
In Sweden, we sell kitchens from Marbodal, HTH and uno form, and in Norway from Sigdal, Norema, HTH, Marbodal and uno form. In Denmark, Nobia operates under the HTH, Invita and uno form brands and also manufactures laminated worktops. In Finland, we sell kitchens under the A la Carte, Petra and HTH brands. Distribution channels vary between brands, but sales mainly take place directly and via franchise stores and retailer
| Nordic region | |
| --- | --- |
| Own stores: | 23 |
| Production units: | 6 |
| Employees: | 2,600 |
Net sales 2019
Share of total net sales
Nordic Region SEK 6,700 m
Other Nobia
UK region
Our operations in the UK include the Magnet kitchen chain and kitchen suppliers Gower, Rixonway Kitchens, Commodore and CIE Kitchens.
Magnet is the largest operations in terms of sales, and through its nationwide store network it sells kitchens primarily to consumers and builders, but also to property developers and housing associations. Gower supplies kitchens under private label to DIY and builders' merchants chains in the UK. Rixonway Kitchens is specialised in kitchen products for social housing, whereas Commodore and CIE Kitchens supply kitchens to private property developers and construction companies.
| UK region | |
| --- | --- |
| Own stores: | 210 |
| Production units: | 5 |
| Employees: | 2,900 |
Net sales 2019
Share of total net sales
UK Region SEK 5,900 m
Other Nobia
Central Europe region
This region comprises Nobia's Austrian operations.
In Austria, we sell kitchens under the brands Bribus, ewe, FM and Intuo. Customers mainly comprise Austrian furniture chains or independent retailers, some of which are organised via purchasing organisations. There is also an export business to nearby countries. In the Netherlands, Bribus sells kitchens mailny directly to construction Companies. Nobia does not have its own stores in the region.
| Central Europe region | |
| --- | --- |
| Own stores: | - |
| Production units: | 3 |
| Employees: | 648 |
Net sales 2019
Share of total net sales
CE Region SEK 1,275 m
Other Nobia