Business overview
Nobia is one of the largest kitchen companies in Europe, with manufacturing and sales in seven countries: the UK, Denmark, Sweden, Norway, Finland, Austria and the Netherlands. Nobia is organised into three regions: the Nordic region, the UK and Portfolio Business Units. The former two are the dominant regions.
In the Nordics, Nobia has several kitchen brands, including Marbodal, HTH, Sigdal and uno form. Products are sold to all customer segments; consumers and professional customers (tradesmen and project customers). In the UK, Nobia's main brand is Magnet that serves all three customer segments. Operations also include Gower that is an OEM supplier to DIY customers and Commodore Kitchens & CIE that sell to project customers. In Austria, Nobia manufactures and sells kitchens to consumers with the brands ewe, FM and Intuo and in the Netherlands Nobia operates under the Bribus brand selling to project customers.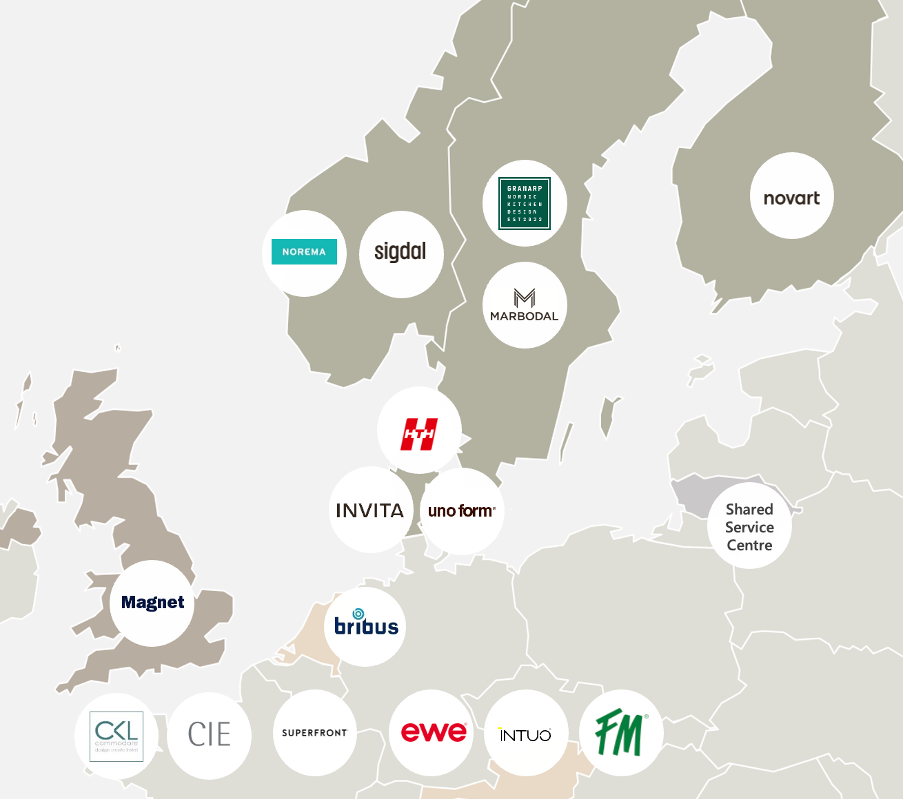 Region Nordic
In Sweden, Nobia sell kitchens from Marbodal, HTH and uno form, and in Norway from Sigdal, Norema, HTH, Marbodal and uno form. In Denmark, Nobia operates under the HTH, Invita and uno form brands. In Finland, kitchens are sold under the Novart, Parma and HTH brands. Distribution channels vary between brands, but sales mainly take place directly and via franchise stores and retailers.
| | |
| --- | --- |
| Nordic region | |
| Own stores | 22 |
| Production units | 6 |
| Employees | 2,600 |
Region UK
Magnet is the largest brand in terms of sales, and through its nationwide store network it sells kitchens primarily to consumers and tradesmen/builders, but also to property developers and housing associations. Gower supplies kitchens under private label to DIY and builders' merchants chains.
UK region
Own stores
200
Production units
5
Employees
2,600
Portfolio Business Units
Portfolio Business units (formerly Region Central Europe) includes the Group's independent businesses in The Netherlands, Austria, Sweden and the UK. In Austria, Nobia sells kitchens under the brands Bribus, ewe, FM and Intuo. Customers mainly comprise Austrian furniture chains or independent retailers. A small share of the sales are also export sales business to nearby countries Germany and Switzerland. In the Netherlands, Bribus sells kitchens mainly directly to construction companies. Commodore and CIE serve the UK premium project market, selling directly to premium property developers. Superfront is a Swedish kitchen accessories provider selling on-line to the European market
Portfolio Business Units
Own stores
-
Production units
3
Employees
648
Production
We manufacture a wide range of products, from flat-pack cabinets to high-quality customised products. Nobia has 14 production facilities in seven countries in Europe. Our production facilities vary in size and have differing levels of specialisation. All plants except two are certified in accordance with ISO 14001. We manufacture a total of about 140,000 cabinets or around 10,500 kitchens every week.
Nobia has production in seven countries
Sweden
Tidaholm
Denmark
Ølgod, Bjerringbo and Farsø
Norway
Eggedal
Finland
Nastola
UK
Darlington, Dewsbury, Halifax, Morley and Grays
Austria
Wels and Freistadt
Netherlands
Dinxperlo